Solarfest
Solarfest 2019: 7th and 8th June
We're looking forward to hosting this year's Solarfest on Friday evening 7th of June and Saturday 8th of June at Dunsink Observatory, in collaboration with the Irish Federation of Astronomical Societies. Our amateur astronomy partners maintain the Solarfest Facebook page here, with lots of photos and information.
On Friday evening Prof. Tom Ray of DIAS will speak about "Ireland's Role in Proving Einstein Right", about the famous 1919 expeditions to observe the Solar eclipse. These observations proved Einstein's theory of General Relativity, which predicted that light from distant stars would be bent around the Sun by the Sun's gravity.
On Saturday we have a series of talks by amateur and professional astronomers about the Sun and related topics, starting at 11am. This year we will have a talk about the Apollo 11 Moon Landings, the Clocks and Timekeeping at Dunsink, as well as more standard topics of Solar observing, the Solar Wind, and winds from other stars. Weather permitting we will also have Solar observing and tours of the grounds. We're looking forward to seeing everyone at the weekend!
---
Previous Years
Solarfest has been running for some years now at Dunsink Observatory, through the dedication of a number of amateur astronomers and the support of DIAS.
Solarfest 2018: 15-17 June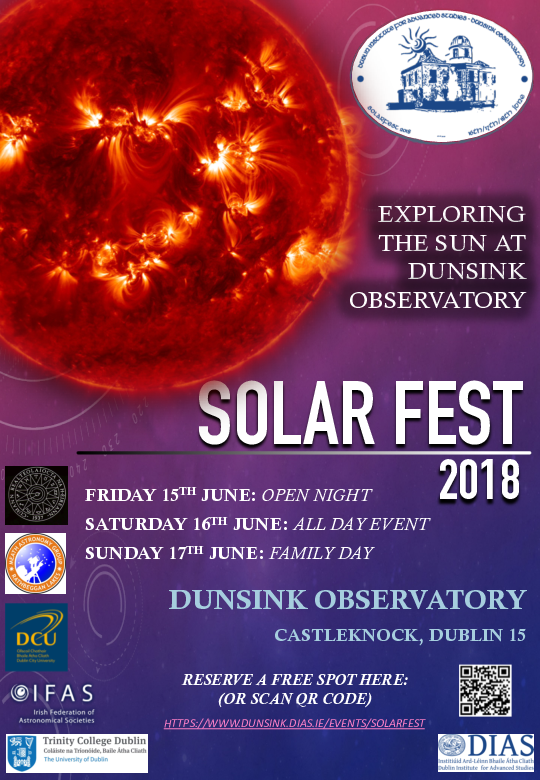 Solarfest took place at DIAS Dunsink Observatory on the 15th to 17th of June 2018. This annual event is a celebration of solar astronomy for professional and amateur astronomers, as well as the general public.
Our amateur astronomy partners maintain the Solarfest Facebook page here, with lots of great photos from the 3 days and follow-up information.
We had a Public Open Night on the evening of Friday 15th of June, including observing the Sun.
Sam Green (DIAS) & John Flannery (IAS) talked about the history of Parallax and the 150th anniversary of the Grubb Telescope.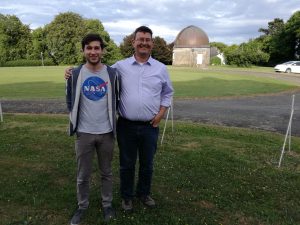 Saturday 16th June: Main Solarfest events
10:30 Registration
11:00 Ronan Newman 'Clouds at the Edge of Space: An insight to their History, Formation & link to Solar Minimum'
11:45 Shane Maloney (TCD) – ESA Solar Orbiter
12:30 Ciara Maguire (TCD) and Oisin Creaner (DIAS) – I-LOFAR
13:15 Live Classical Music by Sarah Joyce / Observatory Tour / Bring Your Own Picnic
14:30 US Solar Eclipse Report: Michael O'Connell (IFAS)
PhD Session:

15:10 Sam Green (DIAS)
15:30 Maria Moutzouri (DIAS)
15:50 Samuel McKeague (DCU)
16:10 Camille Stock (DIAS)
16:30 Q&A Session – All Speakers

16:45 Conference Close with Poetry Reading by Sarah Joyce
17:00 onwards: Informal get together – pizza (€10 pp)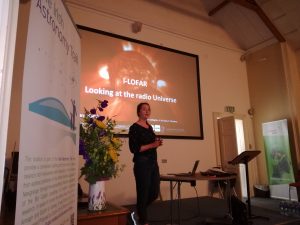 Sunday 17th June: family afternoon from 12:00 to 14:30
Family-orientated talks by John Flannery (IAS) and Kevin Smith (MAG).
Observatory Tour by Sam Green (DIAS).
---
Solarfest 2017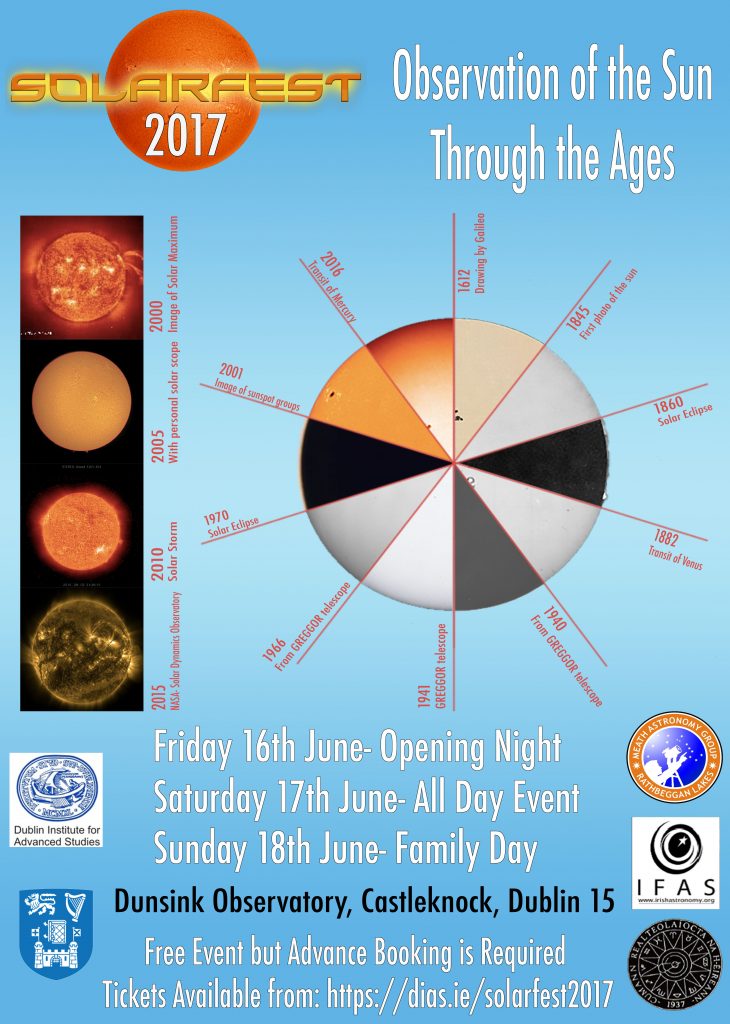 For 2017 we were very fortunate to have blazing sunshine all day for Solarfest! We also had a great line-up of speakers talking about a range of diverse topics. Especially exciting was the upcoming solar eclipse in North America in August 2017, to which quite a few participants were planning to travel.
Programme:
Friday 16th June Open Night:
Terry Moseley "Our place in the universe"
Observatory tour, telescope viewing
Saturday 17th June:
Brian MacGabhann "Einstein Made (Relatively) Simple"
Pete Williamson "Solar Imaging and Processing Made Simple
Samuel Bleyen "Sunspot Classification and Measurement"
Solar observing, observatory tour.
Sam Green "Stellar Bow Shocks"
Aoife Ryan "Solar Physics with I-LOFAR
Dúalta O'Fionnagáin "The Solar Wind in Time"
Sophie Murray "Space Weather: Origins and Impacts"
Sunday 18th June:
Sam Green "Sun for Kids"
Kevin Smith "Fun in the Sun!"
Observatory tour and solar observing.
---