History
Dunsink Observatory, now part of the Dublin Institute for Advanced Studies (DIAS), is the oldest purpose-built scientific research centre in Ireland, having opened in 1785 as the observatory attached to Trinity College Dublin. It was built using a sum of money left for Trinity in the will of Provost Andrews (who also built the Provost's house). The original architect's design (below, by Graham Myers, an assistant of Richard Cassels) called for two Palladian-style wings on either side of the main building with at each end small domes for ancillary telescopes. These however were never built, presumably as a cost-cutting measure. The main building is notable, when compared to other 18 century buildings, for its lack of ornament and functional design which makes it quite appealing to a modern architectural aesthetic.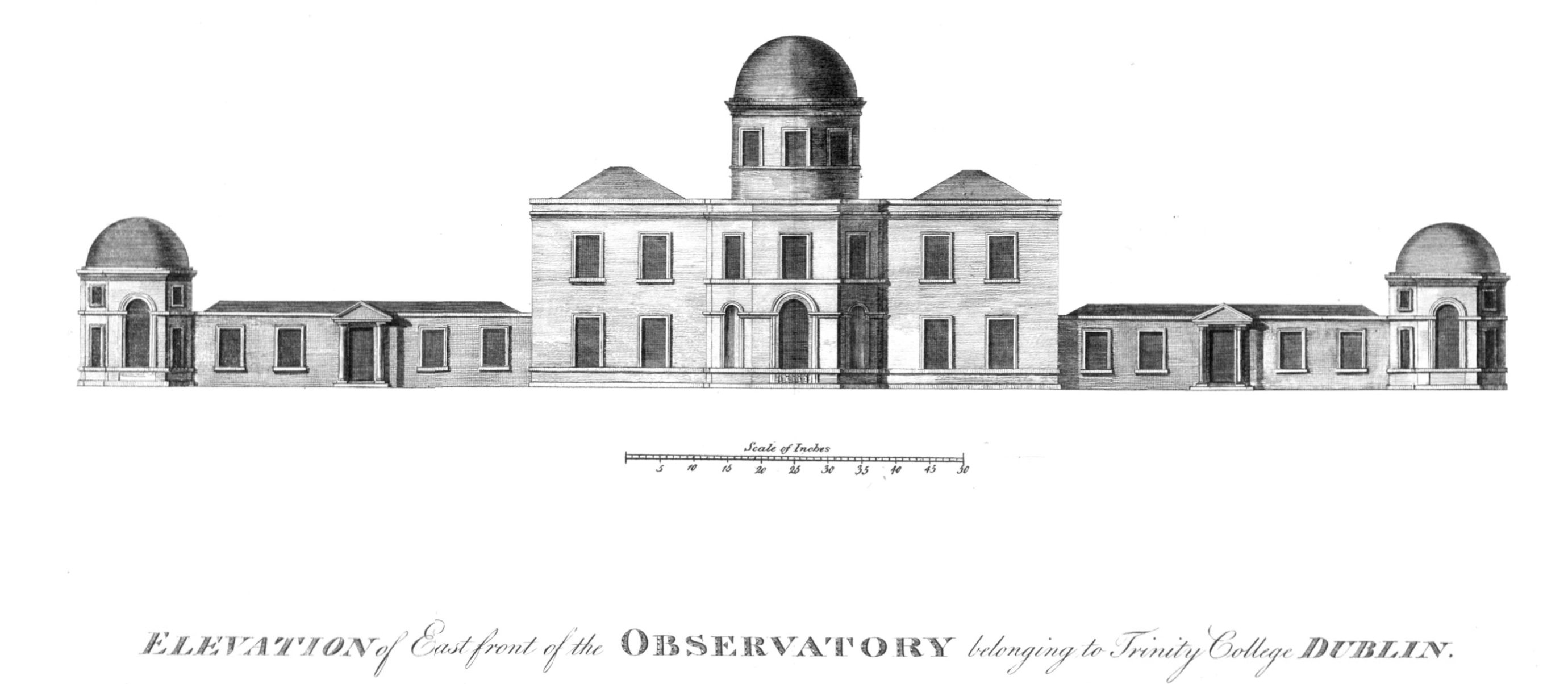 Originally the main work of the observatory was positional astronomy; the accurate determination of the position of stars on the sky and, related to this, the precise determination of local time. Dunsink provided the time standard for Dublin right up to the early 20th century and there are several references in Joyce's Ulysses to Dunsink and the difference between Dublin Time and Greenwich Time.
The most well known Director of Dunsink Observatory was William Rowan Hamilton. You can read more about him and his discoveries here.
The South Dome and telescope were added in the mid-19th century under the direction of Prof. F. Brünnow. They are fine examples of the craftmanship of the Dublin firm of Grubb which exported telescopes all over the world from Rathmines in the late 19th century and early 20th century. Because of Ireland's climate, Dunsink never was a very good location for observational astronomy, even before the extensive light pollution that now blights the sky over Dublin.
Among the many distinguished scientists associated with Dunsink, the mathematician Edmund Taylor Whittaker deserves particular mention. He briefly taught a young student called Eamon De Valera, who subsequently went on to be the dominant political figure in mid-20th century Ireland. De Valera was left by Whittaker with a life-long interest in mathematics and a great admiration for William Rowan Hamilton. This motivated him, in 1947, to purchase Dunsink for the Irish State and assign it to the School of Cosmic Physics in DIAS. Today it is used by DIAS for public outreach, as a location for small conferences and workshops, and as scientific residential accommodation. It is both a jewel in Ireland's scientific heritage and a modern facility for collaboration and research.
By Prof. Luke Drury, DIAS.