Protecting the Night Sky at Dunsink
Dublin's Dark Sky Reserve for the Stars
The night sky can be awe-inspiring. On a clear night away from city lights, thousands of stars in the Milky Way and numerous planets can be seen and admired with the naked eye. Unfortunately, the increased and widespread use of artificial light is impairing our views of the night sky and adversely affecting our environment, our safety, our energy consumption and our health [1].
A dark and unpolluted environment is a must for any observatory, so that stars and planets can be seen. The conditions in Dunsink were suitable for astronomical research in the 19th and early 20th centuries and the observatory still enjoys relatively dark skies by comparison with other areas of Dublin. Dunsink is therefore a dark sky reserve for the greater Dublin area [2, 3].
Lighting
As an integral part of the cultural and scientific heritage of the Observatory, it is important to incorporate best practice in unobtrusive lighting in and around the Observatory. Lighting should illuminate the ground where needed but minimise the wastage of spilling light into the sky, where it is not needed and where it also impairs our view of the stars.
Dunsink is located in a region of Dublin where it is still surrounded by open fields that complements its scientific heritage as well as its international standing as a centre for astronomical research. It is a unique aspect of the scientific and cultural heritage of Dublin. This needs to be maintained.
Any lighting that is required must take consideration of:
Skyglow, arising from wasteful light produced by artificial sources emitted upwards and scattered by aerosols in the atmosphere.
Light trespass, whereby unwanted light at night seeps through windows, causing sleep disorders due to overexposure to light.
Glare, excessive brightness at night, which creates high contrast and hence decreased visibility.
Lighting in and around the Dunsink Observatory should conform with best practice in minimising the impacts of these factors, as described by the International Dark Sky Association [1]. This also includes designing the lighting so as to minimise the blue component of the emitted spectrum. This scatters easily and impacts on public health and circadian rhythms in humans, and on ecosystems in general. In general, lighting should be confined to where it is needed.
Dunsink Observatory organises regular star viewing and related activities in and around its grounds during night time. Lighting must not impact on these events, and should be turned off while they take place. Impacts from the lights of vehicles in car parks should also be minimised during such activities.
Further reading on light pollution can be found in "Dark and Quiet Skies for Science and Society" recently presented to the United Nations Science and Technology Sub-Committee (STSC) of the Committee on the Peaceful Uses of Outer Space (COPUOS).
Starlink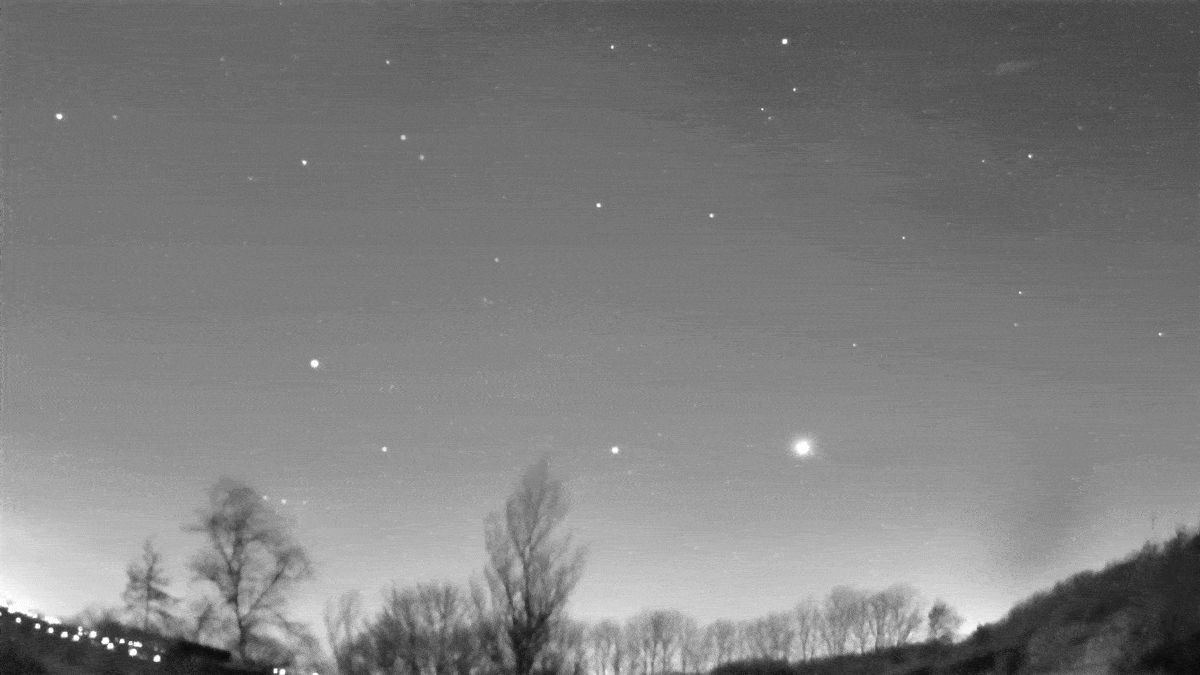 Have you noticed a trail of objects travelling across the night sky recently? It might have been a constellation of Starlink telecommunication satellites being launched by SpaceX into orbit for satellite internet access.
Astronomers have found that the increase in the number of these satellite constellations in our night skies presents a challenge to ground-based astronomy. Learn about this topic in the Royal Astronomical Society's statement, and a recent Irish Times video featuring DIAS Prof Caitriona Jackman and our IAS colleague John Flannery.
Dark Skies and Ireland

---
References

"How Dark is your Sky? – Estimating Artificial Light in Ireland from Satellite Imagery 2020", Central Statistics Office, December 2020.
"Light pollution obscures wonders of the universe", RTE News, December 2020.
"Dark and Quiet Skies for Science and Society", report to the United Nations Science and Technology Sub-Committee (STSC) of the Committee on the Peaceful Uses of Outer Space (COPUOS).