Home » Search results for 'solarfest'
Search Results for:
solarfest
Solarfest 2018
Solarfest takes place at DIAS Dunsink Observatory, Castleknock, Dublin 15 on the 15th, 16th and 17th of June 2018. This annual event is a celebration of solar astronomy for professional and amateur astronomers, as well as the general public. Entry is free, but tickets must be booked in advance. Look out for more information over the next few weeks.
The weekend will consist of:
A public open night on the evening of Friday 15th of June, including observing the Sun (weather permitting)
A series of talks and observing sessions on Saturday 16th of June
A family afternoon on Sunday 17th of June.
---
Previous Years
Solarfest has been running for some years now at Dunsink Observatory, through the dedication of a number of amateur astronomers and the support of DIAS.
---
Solarfest 2017
For 2017 we were very fortunate to have blazing sunshine all day for Solarfest!  We also had a great line-up of speakers talking about a range of diverse topics.  Especially exciting was the upcoming solar eclipse in North America in August 2017, to which quite a few participants were planning to travel.
Programme:
Friday 16th June Open Night:
Terry Moseley "Our place in the universe"
Observatory tour, telescope viewing
Saturday 17th June:
Brian MacGabhann "Einstein Made (Relatively) Simple"
Pete Williamson "Solar Imaging and Processing Made Simple
Samuel Bleyen "Sunspot Classification and Measurement"
Solar observing, observatory tour.
Sam Green "Stellar Bow Shocks"
Aoife Ryan "Solar Physics with I-LOFAR
Dúalta O'Fionnagáin "The Solar Wind in Time"
Sophie Murray "Space Weather: Origins and Impacts"
Sunday 18th June:
Sam Green "Sun for Kids"
Kevin Smith "Fun in the Sun!"
Observatory tour and solar observing.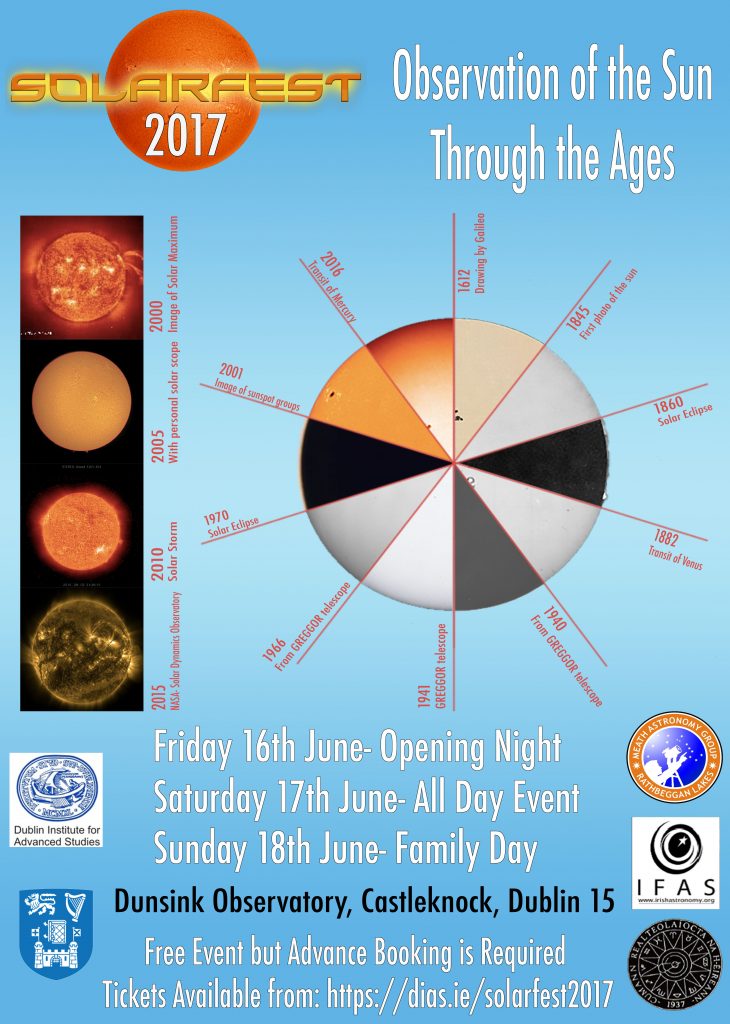 Regular Events for the public and for schools
Open Nights: Wednesday nights during the winter months, usually 1st and 3rd Wednesday of the month.
Solarfest is an event run in partnership with amateur astronomers and solar observers that takes place on a weekend around the summer solstice every year (mid-June).  We have a public open night on Friday evening, a full day of talks and solar observing (weather permitting) on Saturday, and a family afternoon on Sunday.
Culture Night is an open night in mid-September when many public buildings open their doors for the evening.  We run a series of talks and tours of Dunsink.
Early October brings Space Week, closely following in mid-to-late October by Maths Week, and we support these weeks by running a number of public and schools events, including the annual Hamilton Walk to celebrate the contributions of Ireland's greatest mathematician.
Ireland's national Science Week runs every year in mid-November, coordinated by SFI.  We run events most days and evenings during Science Week for schools and the public.  Look for notifications in October of the events for this year.
In late February and early March, Engineers week takes place, and we again have schools visits during the week and an open night with a theme appropriate for the week.