Meteors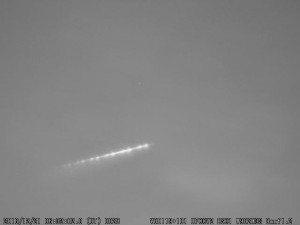 Meteors, also called shooting stars, are beautiful and short-lived streaks of light in the sky that last between a fraction of a second for the faint ones up to a few seconds for the bright ones.  They are also a reminder that interplanetary space is not empty but contains the debris left over from the formation of the Solar System.
Meteor Detectors at Dunsink
We have two meteor cameras and a radio antenna at the Observatory, funded by SFI, which are automatically searching the sky for meteors and recording any that they find.  The detectors are part of the NEMETODE network in the UK and Ireland.  The meteor detections are saved on a hard disk and then checked about once or twice a month, so if you see a bright one and are wondering if we saw it, it might take us a while to get back to you!  Our cameras look south and south west, covering about 60×30 degrees of the sky.  The radio antenna covers a much larger fraction of the sky, but we don't have any information on the direction from which the meteor is detected.
Reporting Meteor Observations
There are a number of great databases where members of the public can report bright meteors, so we won't start a new one at DIAS Dunsink Observatory.  If you saw a fireball in Ireland you can report it to one or both of the databases below.
Armagh Observatory and Planetarium has a fireball report form and database, for reporting especially bright meteors:
Report Form: http://arpc65.arm.ac.uk/fireballs/index.html
Database: http://arpc65.arm.ac.uk/fireballs/search.html
The International meteor organisation (IMO) also has a similar service, with some very good advice for determining if you actually saw a fireball or if it could have been something man-made like a satellite or a plane:
Report Form: http://fireballs.imo.net/members/imo/report_intro
Database: http://fireballs.imo.net/members/imo_view/browse_reports